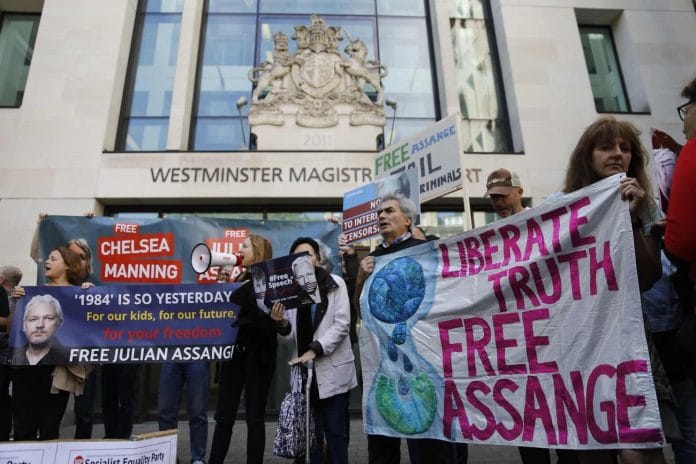 On April 8th, just before London police forcibly carried WikiLeaks founder Julian Assange out of the Ecuadorian embassy, a doctor named Sondra S Crosby wrote a letter to the Office of the United Nations High Commissioner for Human Rights requesting that the office look into Assange's case. Today, following a disgusting rebuke of multiple governments by UN Special Rapporteur on torture Nils Melzer, mass media outlets around the world are reporting that Julian Assange is indeed the victim of brutal psychological torture.
"My most urgent concern is that, in the United States, Mr. Assange would be exposed to a real risk of serious violations of his human rights, including his freedom of expression, his right to a fair trial and the prohibition of torture and other cruel, inhuman or degrading treatment or punishment," said Nils Melzer, the UN Special Rapporteur on torture.
"I am particularly alarmed at the recent announcement by the US Department of Justice of 17 new charges against Mr. Assange under the Espionage Act, which currently carry up to 175 years in prison. This may well result in a life sentence without parole, or possibly even the death penalty, if further charges were to be added in the future," said Melzer, who was also following up on earlier concerns for Assange's health.
Even though Assange is not in solitary confinement, Melzer said he is gravely concerned that the limited frequency and duration of lawyers' visits and his lack of access to case files and documents make it impossible for him to adequately prepare his defense in any of the complex legal proceedings piling up against him.
It is significant that a UN expert has included the massive anti-Assange smear campaign in his assessment of psychological abuse. For far too long this devastating psychological weapon of the powerful has gone fully normalized and unacknowledged for the damage and suffering it causes, and now an authoritative voice has pointed it out and called it into public consciousness for the depraved manipulation that it is. It's a very interesting development to see western governments and their media stenographers condemned in this way for their participation in such savagery.
Responses to Melzer's findings have been explosive. Virtually every major media outlet in the English-speaking world has been carrying headlines about this story, from the New York Times to the Washington Post to Fox News to CNN to the Guardian to the BBC to the Herald Sun. An attempt to regain control of the narrative by the accused governments, therefore, was of course quick to follow.
"This is wrong," tweeted Britain's Foreign Secretary Jeremy Hunt in response to the story. "Assange chose to hide in the embassy and was always free to leave and face justice. The UN Special Rapporteur should allow British courts to make their judgements without his interference or inflammatory accusations."
Abusers always demand the right to conduct their abuse in private.
Hunt, who'd just returned from hanging out with the Trump administration's warmongering psychopath John Bolton, received a direct response from Melzer himself.
"With all due respect, Sir: Mr Assange was about as 'free to leave' as a someone sitting on a rubber boat in a shark pool," Melzer tweeted. "As detailed in my formal letter to you, so far, UK courts have not shown the impartiality and objectivity required by the rule of law."
Conclusion
Assange had so many off-ramps he could have taken from the psychological torture that he has been subjected to since exposing US war crimes in 2010, but he chose to stand and fight instead. He decided that if they wanted his head, they were going to have to work for it.
Julian Assange forced the oppression machine to reveal its true face, by coordinating across national borders to drag him bodily out of the embassy, locking him in a cage, waging a war upon the free press with outrageous espionage charges, and finally being found guilty of torturing a journalist for publishing factual documents about the powerful.
We have all that information now. It can't be unseen. Because Assange chose to fight, we now have that evidence and we can use it to help wake people up to the true face behind the smiling mask of "liberal democracy" we've all been told to believe in since grade school. Even while imprisoned, sick, and barely even able to speak, Julian Assange is still exposing these bastards for what they are.
Don't let his example go to waste.
This article was written by Caitlin Johnstone. Parts were modified with additional details from the UN report.