Genetic modification of human life sounds like a term taken straight out of some Sci-Fi movie, but it's actually a very real possibility, and one that's being heavily discussed in the scientific community worldwide. Contributing to one of the most controversial topics to date, not long ago, a panel of science experts in the U.S. just examined and gave their support for germline editing.
This means that in the future, parents will likely be able to tamper with the genetics of their children pre-birth. Germinal choice technology refers to reprogenetic technologies that enable parents to alter the genetic constitutions of their children. One of the ways this can be done is through genetic modification, which is a fancier term for human genetic engineering. Germline editing alters the genes of a sperm or an egg, but it then changes the future DNA of every single cell in the embryo. This means that the genetic changes made to the embryos will then affect all future generations within that family lineage.
The panels were made up of experts from two of the most prestigious scientific institutions in the U.S., both of which recommended that germline editing be viewed as a serious option in the future and not be prohibited outright (source).
This is a dramatically different stance than the last assessment given in December 2015 by an international summit of scientists, who stated that it would be "irresponsible to proceed" with germline editing given the controversy surrounding the subject and the safety issues involved, all of which have yet to be resolved.
The panels' discussions can be further analyzed in a report released earlier this week by the U.S. National Academy of Sciences and the National Academy of Medicine. The panel recommended that genetic modification of early embryos, eggs, or sperm should only be permitted to prevent serious disease or disability if there's significant scientific evidence illustrating that the procedures are safe.
You can read more about that story here.
Last November, He Jiankui, a Chinese biology professor at Southern University of Science and Technology (SUST)in Shenzhen (Guangdong Province) announced that he and his team had createdthe World's first "genetically edited babies": twin babies Lula and Nana.
Dr. He Jiankui, used the CRISPR technology "to alter the embryos of seven couples [allegedly] to make them resistant to HIV".  He Jiankui made his announcement at the Second International Summit on Human Genetic modification held at the University of Hong Kong.
Dr. He claims to have used CRISP "to tweak the DNA of human embryos during in vitro fertilization".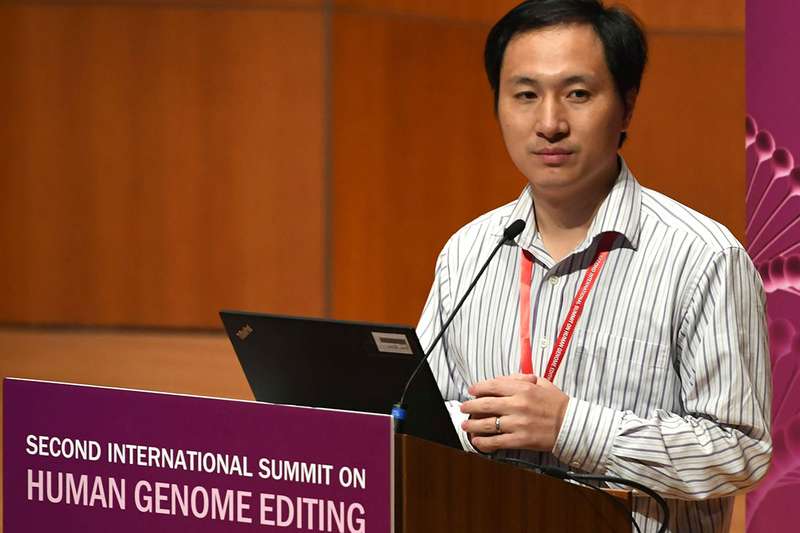 The implications of this experiment could be far-reaching. The genetic editing of human life forms including embryos has a bearing on the future of humanity. It opens up the pandora's box of genetic modification applied to human beings.
It undermines the "reproduction of real life", and potentially destroys humanity as we know it.
The experiment raises important scientific and ethical issues. Human embryos are not commodities. The Chinese government immediately opened an investigation, Dr He Jiankui was fired by his University in January 2019.
Conclusion
Despite government regulations and ethical issues, there are powerful corporate interests involved in the development and patenting of genetic editing of life forms including Dr. He's findings on "genetically modified babies".
We're talking about "Big Business" involving the potential marketing and sale of genetically modified human and animal life forms. Imagine the potential strategic and military applications, not to mention the emergence of a corporate health service economy for the super-rich, where "perfect babies" can be purchased for a million dollars.
While the Broad Institute owns the intellectual technology, CRISPR-Cas9 was invented by a Chinese American scientist Dr. Feng Zhang based at the Broad Institute and MIT.
MIT Prof. Feng Zhang responding to Dr He's controversial announcement calls for "a moratorium on implantation of edited [human] embryos …until we have come up with a thoughtful set of safety requirements first."
This statement represents the interests of the Broad Institute. According to Feng Zhang's colleague Professor David Liu (also on behalf of the Broad Institute):
Obviously Dr. Chossudovsky makes some great points, but what if human beings are meant to make these discoveries in order to possibly expand human life and wipe out disease, for example? The issue here is not the potential and the act of gene editing, it's the corporate takeover of humanity, and big corporations acting from the intent of profit and control instead of acting from a service to others type of mentality.
At the end of the day, when it comes to this type of discovery and development, it's key that humanity have a shift in consciousness, and completely operate from an entirely different level, one that can benefit all, and one from a place of good, instead of operating from a lower level of consciousness that bring in the concerns that Chossudovsky mentions above.
This article was written by Collective Evolution. Parts were modified and additional details added.