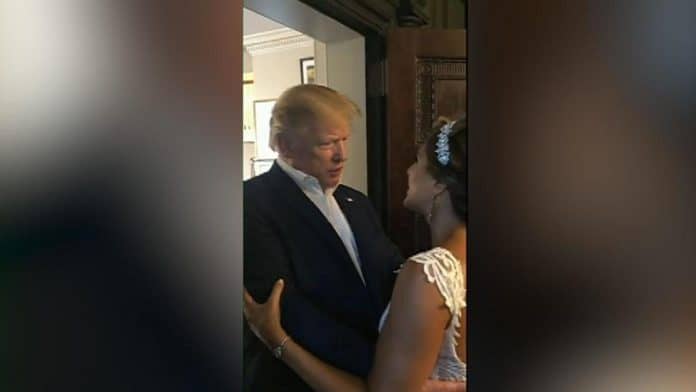 President Donald Trump is a big fan of weddings
Donald Trump unexpectedly went to attend the wedding of PJ Mongelli and Nicole Marie Mongelli on Saturday night at the Trump National Golf Club Bedminster in New Jersey, according to FoxNews.
The bride and the groom are big fans of president Donald Trump to the extent that they had dreamed of him attending their wedding and got engaged at the golf club in 2017. Flags of US and Donald Trump pictures could be seen in the event.
The bride mentioned that she has sent several requests to the president in hopes he would attend the wedding and that Trump ended up paying two visits to separate wedding events. At the first event, he vowed to show up to the second, and kept his word.
A man approached to the president as he was talking with the bride and the groom shouting: "I'm the father. I'm the father."
Trump Replied: "Great job. You did a good job."
In videos posted to social media, Secret Service agents were seen keeping most attendees at bay while the bride and groom approached Trump and hugged him.
Trump said about the groom: ""Where's the groom? Handsome — look at his shoulders, Nobody's gonna mess with him."
"Staten Island is the greatest," Trump said, when the groom told him told hundreds of guests from the borough would be attending a party later. "I love it. I'll see if I can stop by."
On the other hand, a lot of negative comments spread on twitter about the Donald Trump drop on the wedding. The president has a history of personally reaching out to fans, both inside and outside his properties but his wedding drop-ins on his properties are especially well-known.