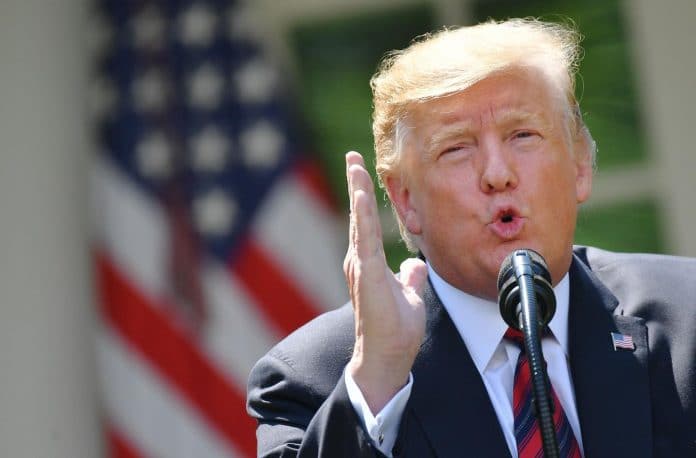 President Donald Trump spent the entirety of the last week talking about possible military action against Iran, discussing the number of troops that would be involved, and threatening that war would mean the "official end of Iran."
On Monday, he suddenly reversed course, claiming that there was "no indication" of threats from the country that would require such a response.
"They've been very hostile. They've truly been the no. 1 provocateur of terror," Trump told reporters as he left the White House, before saying that there was, in fact, no threat.
That's a huge change from his own tweet on Sunday, in which he wrote, "If Iran wants to fight, that will be the end of Iran. Never threaten the United States again!"
Just a few days before that, Trump said he would send a "hell of a lot" more than 120,000 troops to the Middle East to counter Iran, referring to a New York Times report on an updated military plan should Iran attack U.S. forces or resume nuclear fuel production that it suspended under the 2015 nuclear agreement.
Experts say the mixed messages have to do with the administration's lack of a coordinated Iran strategy in general and not just Donald Trump.
"I oscillate between thinking the administration is being quite clever, and almost demonstrating irrationality in order to scare the Iranians into not doing anything stupid — or at least that's what they think they're doing — or just genuine total cluelessness, which is what I tend to lean towards," said Dina Esfandiary, a fellow at the Harvard Kennedy School's Belfer Center and the Century Foundation's Middle East Department.
Trump pulled out of the 2015 Iranian nuclear agreement, also known as the Joint Comprehensive Plan of Action (JCPOA), last year. He called it a "horrible, one-sided deal that should have never, ever been made," ignoring the fact that it was a multilateral agreement also signed by the United Kingdom, Russia, France, China, and Germany. Since then, Trump has reimposed sanctions that were lifted under the deal and designated the country's Revolutionary Guard Corps as a foreign terrorist organization.
But complicating any negotiations, said Vatanka, are two issues: Trump's withdrawal from the nuclear deal and the administration's set of 12 demands that must be included in any future deal with Iran.
Shortly after Trump's withdrawal from the nuclear agreement, Secretary of State Mike Pompeo announced this list of requirements, which includes demands that Iran stop all uranium enrichment entirely and give the International Atomic Energy Agency (IAEA) "unqualified access to all sites throughout the entire country." (The IAEA has already repeatedly verified Iran's compliance with the 2015 agreement.)
Meanwhile, talk of war is also coming from Trump's allies in Congress. Rep. Tom Cotton (R-AR) said last week that Iran could be defeated with just "two strikes." Cotton is a supporter of the Mujahedeen-e-Khalq (MEK), an Iranian opposition group that both Iran and Iraq consider a terrorist group and that the United States did as well until 2012, and  has been a vocal advocate of regime change inside Iran.
Sen. Lindsey Graham (R-SC), who has also called for regime change in the past, said Monday that Trump should "stand firm" against Iran and referred to a briefing from Bolton that revealed Iran "created threat streams against American interests in Iraq."
Bolton has repeatedly called for regime change inside Iran — and was an architect of the 2003 invasion of Iraq — and Trump is reportedly growing frustrated with him.
Several U.S. officials told The Washington Post earlier this month that Trump is not convinced that now is the right time to attack and is frustrated with Bolton and Pompeo's Iran strategy.
"They are getting way out ahead of themselves, and Trump is annoyed," one senior administration official told the Post. "There was a scramble for Bolton and Pompeo and others to get on the same page."
The lack of a strategy could end badly, said Esfandiari.