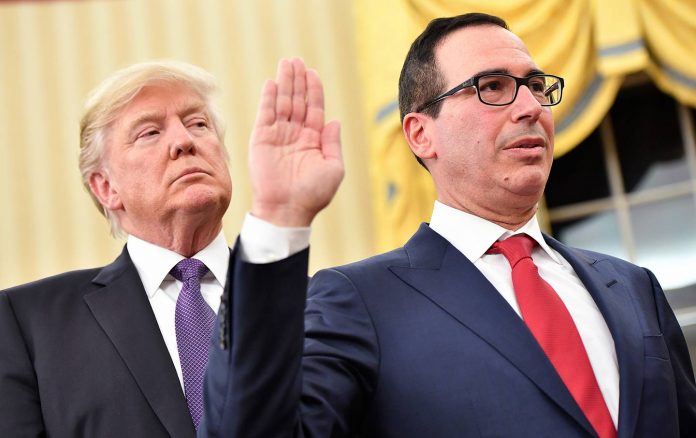 President Trump's aggressive trade war is running head first into his campaign for reelection.
As Trump prepares to run on the economy, his threat to increase tariffs on imports from China has sent the stock market diving and undercut a stretch of positive economic news. U.S. farmers and exporters, already bearing the full brunt of China's retaliatory tariffs, now face the prospect of an escalated trade war in which states that Trump needs to win reelection will be in the crosshairs.
The trade war has also exposed a rift inside the White House and among the president's allies — with some officials pushing for a quick resolution to calm the markets ahead of 2020, and others warning the president that a weak deal with China could leave him politically vulnerable.
"My warning has been: We don't want the 2020 election year to become greatly intensified friction with China over trade issues. We want a deal that works," said Michael Pillsbury, a China expert at the Hudson Institute who has advised the Trump administration on trade.
Some Democratic presidential candidates are using the turbulence around the trade talks to needle Trump and try to undercut his messaging on the economy.
"This is what happens when he tries to go at it alone and he has no leverage," Sen. Kamala D. Harris (D-Calif.) said in an interview. "So he has to create this kind of leverage through a tweet. We should be sitting at that table with our allies."
Trade talks between the United States and China faltered this week as Trump publicly voiced his frustration by announcing plans for new tariffs on Chinese goods.
U.S. officials accused China of reneging on prior commitments in the talks, which have included 10 rounds over the past year. In meetings in Washington and Beijing, the Trump administration has been pushing for significant concessions from the Chinese on issues including market access, intellectual property rights and the trade deficit.
Although many praise Trump for his tough-on-China stance, they also say that patience is wearing thin and that the president risks losing the backing of farmers in key presidential swing states.
"If he gets a deal, awesome. If he doesn't, it's going to hurt," said Sen. Joni Ernst (R-Iowa), who is up for reelection next year in a state that Trump won in 2016. Farmers are "losing their patience, yeah, but they want to see a deal."
One official said Trump is aware that he needs a deal before 2020 to hold on to support from farmers in the Midwest.