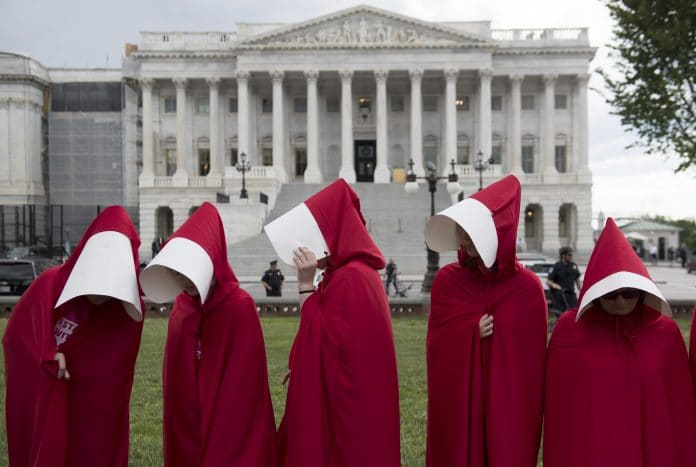 On Tuesday night, Alabama's majority-Republican Senate passed a bill which, if signed by Republican Gov. Kay Ivey, would ban abortion in the state and could punish doctors who perform them with life in prison.
Under the bill, abortion wouldn't even be allowed in the event of rape or incest, but it makes exceptions if there's a "serious health risk to the unborn child's mother." The proposal directly challenges Roe v. Wade, the Supreme Court case that made abortions legal across the nation. Sound familiar yet?
The legislation received widespread backlash on social media, with many comparing the passed measure to rules in the popular TV series, which is set in the totalitarian society of Gilead — which once used to be the United States.
In the show, the few fertile women left are forced to become slaves, servants becoming Handmaids who are forced to give birth to children.
On Twitter, one person shared a photo of the 22 Alabama senators who voted against making rape or incest reasons for exceptions to the abortion ban. Above the picture, she wrote, "Gilead is being brought to you by the following people."
The Senate hoped to vote on the bill before the July 4th recess but Senate Majority Leader Mitch McConnell announced Tuesday the vote will be delayed. Some Republican Senators, like Susan Collins and Lisa Murkowski, have expressed opposition to the provision that defunds Planned Parenthood.
The non-partisan Congressional Budget Office estimated in its report Monday that halting the funding would impact pregnancy prevention services, and would have the biggest impact in low-income areas or locations where there are few other medical options. Planned Parenthood says 54% of its clinics are in these types of locations.
Ivey, who has previously expressed anti-abortion views, has six days to sign or veto the bill.

Blessed be the fruit, may the Lord open…