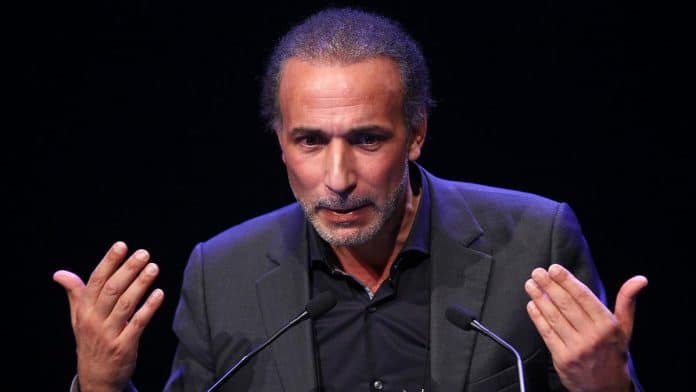 Details of the payments made by Qatar to Muslim Brotherhood organisations in Europe, including furnishing funds used by the academic Tariq Ramadan for legal fees to fight rape allegations, have emerged in a new book.
Qatar Papers – How the emirate finances Islam in France and Europe, written by French journalists Christian Chesnot and Georges Malbrunot, provides evidence that money transfers from Qatar have been used to underwrite more than 140 projects all over Europe, where the Muslim Brotherhood seeks to expand its influence.
The book also documents payments of €72 million (Dh296m) to groups in seven European countries. In just one region of France, the payments total €4.6m, including €3m for the Averroes de Lille high school. Several staff at the school were linked to Muslim communities that also attracted Qatar support. According to the book, Ramadan was paid €35,000 a month as a consultant to the Qatar Foundation, an entity set up by Sheikha Moza bint Nasser, the wife of the last emir, Sheikh Hamad bin Khalifa Al Thani. Right before last years arrest, which saw Mr Ramadan under criminal investigation, bank documents show that he withdrew €590,000 from Qatari bank accounts. The authors point out that Ramadan and his wife bought two apartments in prestigious areas of Paris that same year.
The funds were directed to major Muslim Brotherhood organizations in France and Switzerland, including Mucivi, or Le Musée des civilisations de l'Islam, a museum in Geneva that displays Muslim Brotherhood propaganda. It has received 1.4 million Swiss francs. Swiss police expressed frustration that they cannot investigate the affairs of the Muslim League of Switzerland because it is a religious association. Documents found in the Swiss home of Youssef Nada, a formerly prominent leader of the brotherhood, set out a strategy for co-opting mayors and other local bodies as tools of influence.
Last month a French court rejected the request to drop the two rape charges against Ramadan. He was released on a €300,000 (Dh1.24 million) bail last November after spending ten months in prison. The Swiss academic was a professor at Oxford University but agreed to take a leave of absence in November 2017 when the allegations surfaced. Strangely, he is still being paid by the college, which has benefited from lavish Qatari funding.
Large sums were also directed to Italy where the Al Houda Centre in Rome received €4 million and the Union delle Comunita Islamiche d'Italia is the main conduit for Doha's largesse.
The book also raises questions about the fundraising and spending patterns of the Nectar Trust, which was formerly known as Qatar Charity. While it raised £27.9 million from grants in the year to March 31, 2017, its income dropped drastically the following year to just £116,615.
Not only British projects were listed among the beneficiaries in the accounts. Nectar Trust directed funds to the Annour Centre in Mulhouse, France, one of towns where Qatar spending ran into dozens of millions of euros.