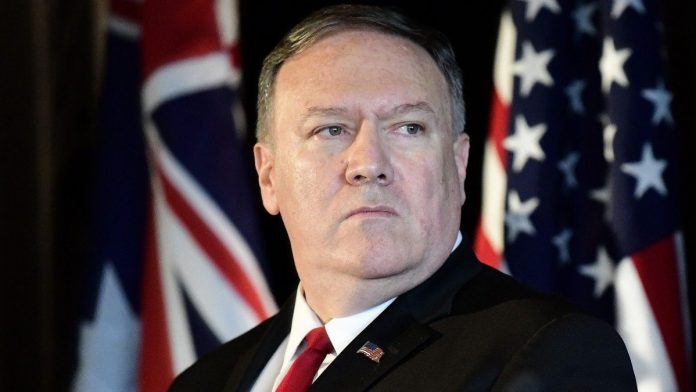 In a government debate over Greenland, US Secretary of State Mike Pompeo commended Denmark for seeing President Donald Trump cancel a trip to the country.
Mr Pompeo voiced gratitude for Denmark's collaboration as a U.S. partner in a phone call with Danish Foreign Minister Jeppe Kofod.
Mr Kofod greeted the "polite, honest and meaningful discussion."
It came after Mr Trump said that when he rebuffed his idea of buying Greenland, Denmark's prime minister was "nasty."
Mette Frederiksen called his ambitions "absurd" to buy the autonomous Danish territory. She said that he had postponed his visit, she was "unhappy and amazed."
The journey was planned for 2 September at Denmark's Queen Margrethe II's invitation.
The U.S. State Department said on Wednesday, Mr. Pompeo and Mr. Kofod had a friendly phone call about the president's trip being "postponed."
"The secretary expressed gratitude for the collaboration of Denmark as one of the partners of the United States and the contributions of Denmark to tackle common global security objectives," said Morgan Ortagus, spokeswoman in a declaration. "Secretary Kofod also addressed improving collaboration with the Kingdom of Denmark-including Greenland-in the Arctic." Mr Kofod said the discussions had established a powerful relationship between the two nations.
The United States and Denmark, he wrote on Twitter, "are close friends and allies with a long history of active engagement around the world."
How have we got here?
While describing Denmark as a "very unique nation," on Tuesday, Mr Trump said in a tweet that his scheduled trip would no longer proceed as Ms Frederiksen had "no stake in debating Greenland's acquisition."
Mr Trump had verified previous accounts that he was interested in purchasing the Danish autonomous territory.
Speaking on Wednesday evening to journalists on the White House lawn, he took umbrage at Ms Frederiksen calling his proposals "ridiculous."
"I thought the statement by the prime minister that it was absurd was nasty, that it was an absurd idea," he said. "I thought the statement was inappropriate. All she had to do was say no, we wouldn't be interested."
"She's not speaking to me. She's speaking to America's United States. You're not speaking to America like that, at least under me," he added.
Ms Frederiksen had told reporters earlier on Wednesday that his leader, Kim Kielsen, "clearly rejected" the idea of selling the resource-rich Arctic Island, "a position I share of course."