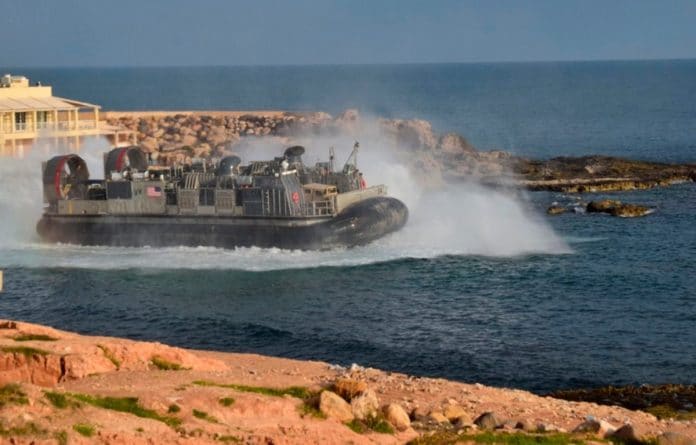 Last Sunday, the US military announced that it will temporarily withdraw its troops stationed in Libya without disclosing the number, citing fierce fighting between forces of the government of reconciliation and the Libyan National Army led by Marshal Khalifa Hafter near capital Tripoli to be the reason.
"The security realities on the ground in Libya are growing increasingly complex and unpredictable," said Marine Corps Gen. Thomas Waldhauser, the head of U.S. Africa Command. "Even with an adjustment of the force, we will continue to remain agile in support of existing U.S. strategy."
He did not provide details on the number of U.S. troops that have been withdrawn or on how many remain inside the country.
Footage circulating online showed two apparent U.S. Navy transport craft maneuvering off a beach in Janzour, east of Tripoli, sending up plumes of spray as American forces were ferried from the shore.
"We will continue to monitor conditions on the ground in Libya," Col. Chris Karns, USAFRICOM's director of public affairs, told Military Times in an email. "U.S. Africa Command continually assesses the disposition of its forces in Libya. Broad support to counter-terrorism activities represents various capabilities, to include air-power and other options.
The New York Times cited the existence of what it described as "warlord Salah Paddy," who previously allied with Islamic extremists & subject to UN sanctions on charges of destabilization.
The United Nations mission in Libya called on Sunday for a humanitarian truce for two hours later in the day to evacuate the wounded from Aziziya, the area around the airport and another location.
Some believe that the main reason for withdrawal of US forces from Tripoli was their fear of operations against them by terrorists who were transferred to Libya through Turkey, a militant group with ties to ISIS.
New York Times on Friday published a lengthy report about a week after Libyan army moved to capital Tripoli, saying it was a surprise attack quickly repelled by a group of criminal gangs and extremists, raising new questions to United States & other Western powers that condemned this move.
Libya collapsed into a patchwork of city-states after the ouster of Colonel Qaddafi. Each city established its own militia and multiple militias competed for control of the two largest cities, Tripoli in the west and Benghazi in the east. In Tripoli, some of the dominant militias have also profited from extortion, migrant trafficking and other illegal activities, according to residents and United Nations observers.
General Hifter, a former officer in Colonel Qaddafi's army, once sought to lead a coup against him and then lived in Virginia as a C.I.A. client. He returned during the uprising against Colonel Qaddafi in 2011, and from a base in eastern Libya, he has received extensive backing from Egypt and the United Arab Emirates, both of which have sought to restore some version of the old authoritarian order as a way to stabilize the country.
The number of foreign terrorists is increasing in Tripoli and we expect terrorist attacks in the city itself, as well as other areas of Libya. The international community should be aware of such activities and act on it.