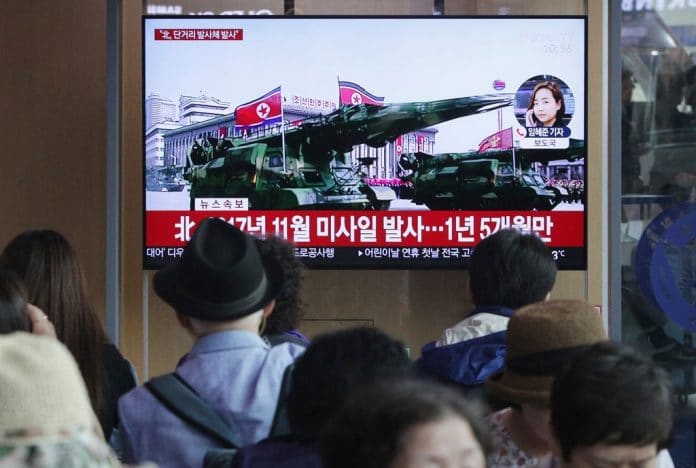 North Korea reportedly launched multiple unidentified short-range "projectiles" off its eastern coast Saturday.
The projectiles were fired from North Korea's east-coast town of Wonsan in a northeastern direction and reportedly toward the East Sea, the agency said, citing a news release. The launches took place "between 9:06 a.m. and 9:27 a.m." local time and reportedly flew up to 125 miles, according to sources.
Analysts say North Korea is looking to escalate the pressure on President Trump to return to the negotiating table with a compromise on easing sanctions by signaling that it could scuttle the United States' biggest diplomatic achievement with the North so far.
Japan's Defense Ministry said there was no evidence the projectiles had landed in its territorial waters.
Broken Diplomacy
"Our military has been closely watching North Korea's movements and has maintained a full-fledged posture in close coordination with the U.S.," the JCS said.
The Pentagon did not confirm the launches for Fox News, saying officials were still looking into the report. But the White House issued a statement.
"We are aware of North Korea's actions tonight. We will continue to monitor as necessary," White House press secretary Sarah Sanders said.
South Korean officials were monitoring the situation and were sharing information with their American counterparts. North Korea did not report on Saturday's firings. Seoul's intelligence agency said it thinks the projectiles were not missiles given their short travel distances and low altitude.
Earlier this year, President Trump and North Korean leader Kim Jong Un met in Vietnam for their second summit, but negotiations fizzled. The North requested sanctions relief in exchange for partial denuclearization measures. The U.S. balked at the request, insisting sanctions would not be relaxed until complete denuclearization.
Saturday's launch could escalate tensions between Washington and Pyongyang, as the U.S. continues to pressure the North to disarm. In a sign of growing frustration, Pyongyang recently demanded that U.S. Secretary of State Mike Pompeo be removed from nuclear negotiations and criticized national security adviser John Bolton.
Concerns over North Korea's nuclear program arose again during the lead-up to the 2018 Winter Olympics in PyeongChang, South Korea. A diplomatic breakthrough in which the North agreed to participate in the games quelled fears of a worst-case scenario, according to the Times.