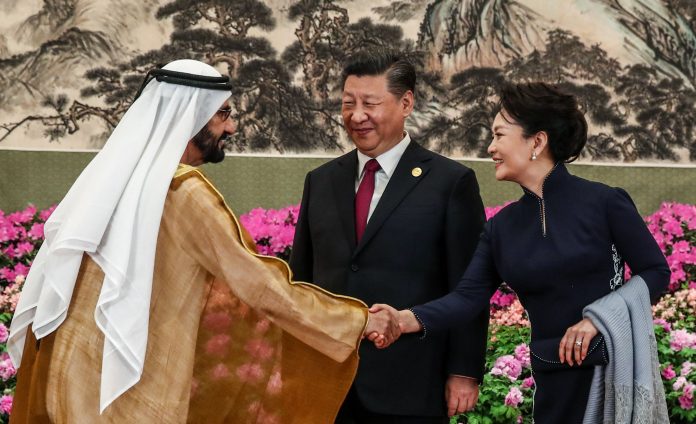 China and the United Arab Emirates are expanding trade and investment ties through new deals worth $3.4 billion. But this "isn't a surprise," according to World Economic Forum President Børge Brende.
"China is now the second largest economy in the world and Asia is now 50 percent of global GDP," Brende told CNBC on Sunday. "A lot of countries like the UAE see huge market opportunities in China." Of course, there are some experts who believe that China currently holds first place and is leading global economy, so this move seems only natural considering UAE is one of the wealthiest regions in the world.
UAE and China signed $3.4 billion worth of new deals over the weekend, as part of China's Belt and Road Initiative — a giant infrastructure project that includes building roads, railways and shipping lines between China and more than 60 countries in Asia, Europe, Middle East and North Africa. The latest agreement is expected to boost an existing $53 billion worth of bilateral trade to $70 billion next year.
Vice President and Prime Minister of the UAE, Sheikh Mohammed bin Rashid Al Maktoum, participated in the Belt and Road forum in Beijing, where he met Chinese President Xi Jinping to iron the deals.
China is already the UAE's second largest trading partner, and the UAE serves as sole gateway for Chinese exports to the Middle East.
"Our Chinese partner will invest $2.4 billion in using the station to store and ship Chinese products from Jebel Ali to the world," Sheikh Mohammed, who is also the ruler of Dubai, said in a tweet on Saturday.
Influence Expansion
The UAE has emerged as a key player in Xi's Belt and Road initiative, which is attempting to link China by both sea and land to markets in Asia and Europe through a range of strategic, and oftentimes controversial, investments.
The project has led some to suggest that China is using the initiative to expand its economic and geopolitical clout — but Beijing has always rejected those criticisms.
"We're living in a very different world than we did ten years ago. It's a multipolar, multi-conceptual world," Brende said.
"Multipolar, in the sense that we see much more geopolitical competition. It's also multi-conceptual, because there are different ideologies out there. It's not only one that we are used to, with the U.S. and western Europe way of running things, " he added.
UAE will be 'vital'
The UAE will be "a vital station along the new Silk Road," Sheikh Mohammed tweeted on Friday, when he announced plans for a $1 billion "Vegetable Basket" project that will import, process, pack and export agricultural, marine and animal products through the new Silk Road. The project is supported by the China-Arab Investment Fund, he added.
"The Arab-Chinese collaboration will positively contribute to the Belt and Road Initiative, given the Arab world's strategic location that connects East & West," Sheikh Mohammed tweeted.
The term "fourth industrial revolution" is defined as a "technological revolution which will blur the lines between the physical, digital and biological spheres." It was a term first introduced by the founder and executive chairman of the World Economic Forum, Klaus Schwab.
The new initiative — a collaboration between the Dubai Future Foundation and the World Economic Forum — aims to develop mechanisms, applications and uses for the fourth industrial revolution in the UAE, according to a government statement.